Bow Tie Bow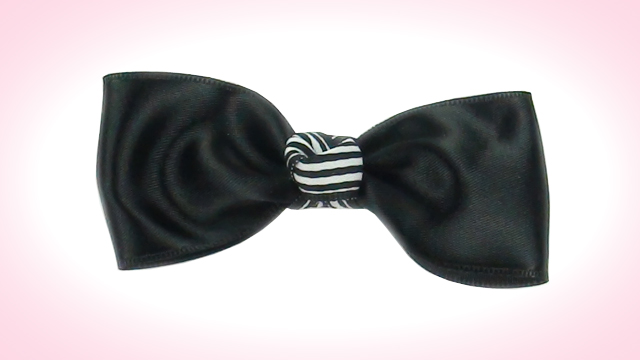 It's just the hairpiece for those weekend play dates, busy school days and lazy afternoons at home. She will be cute as a button when she wears this bow-tie bow with any ensemble she chooses! Whether she's playing a game of hopscotch outdoors or dancing in the living room inside, it's easy to tame her soft tresses with this chic bow-tie bow.
Place this pretty hair bow in her locks when she's sporting a cute ponytail or a sweet braid. By forming the ribbon into a loop and creating two peaks in the center, you will transform your craft materials into an elegant bow tie fit for any occasion! No matter what casual or dressy outfit you pair this cute bow with, it's guaranteed to make her feel beautiful. When you're traveling to birthday celebrations, dress-up parties or photo shoots, this essential hair accessory is a sure way to keep her hair out of her face throughout the day in style.
Use our essential instructional course and it won't be long before you're making adorable bows that she will want to wear everywhere! With our helpful tips and clear directions it will be easy to re-create this bow-tie hair bow for the little one you love. You don't have to feel frustrated with complicated techniques. Make this hairpiece using our simple steps. Once you see our illustrated pictures and easy-to-follow videos you will be able to follow along at your own pace.
Learn the simple secrets to making boutique-quality hair bows. Order our essential course and find out how to re-create this bow-tie bow and others like it for the precious princess you adore.
Bow Tie Bow