Frog Hair Clip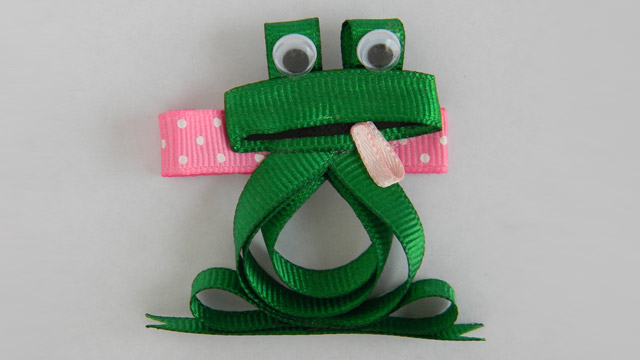 Simply place this frog hair clip in her soft locks and she'll look precious wherever she travels. Whether she's playing in the sandbox with friends or having an afternoon picnic in the park with family she'll look cute as a button with an accessory like this one securing her tresses. Just pop this hair clip in her half-up hairstyle or bouncy ponytail and she's ready to go!
Using 11 pieces of assorted pink, green and black ribbon along with a pair of wiggle eyes, you will see just how simple it is to complete this fun frog hairpiece. Sitting on top of an alligator clip, we'll show you exactly how to fold and loop the ribbons around in order to make the frog's body and those springy legs. This adorable amphibian even sticks out a teasing tongue made of pink satin ribbon!
When you use our essential course, you will be making boutique-quality hair clips for the little princess you cherish in no time at all. Toss out those difficult craft techniques that leave you feeling confused and frustrated. We're making our methods easy for you to understand with our helpful tips and step-by-step instructions. Just follow along with our videos at a pace that feels comfortable for you and it won't be long before you have a small collection of pretty clips for your lovely girl.
Once you take a look at our beautifully illustrated photos and clear directions in our e-book, you will feel confident creating stunning hair accessories that are guaranteed to impress. She will feel ever so special when she receives a hair clip from you that was made just for her!
Learn the secrets to making beautiful hair accessories and secure her locks in style. Order our instructional course and find out how to re-create this frog hair clip and others like it for the sweet girl you adore.
Frog Hair Clip Instructions