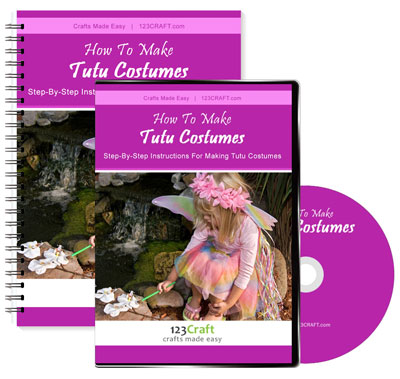 Product Details
The Tutu Costumes Instructional course is great for beginners and professionals who want to learn how to make beautiful tutu costumes for any occasion. The course includes a DVD, eBook and instant video access.
DVD – The DVD videos were recorded in a professional studio and are accompanied by soft relaxing music in the background. The DVD menu makes it easy to navigate to all 12 video tutorials with ease as you learn everything you need to know with simple step by step instructions.
EBOOK – The eBook is packed with information and hundreds of color photos and is a great resource that goes hand in hand with the video instructions. You can follow the instructions right from your mobile device or computer screen or even print them out if you prefer to use a hard copy.
INSTANT VIDEO ACCESS – Instantly watch all 12 video instructions with ease immediately after placing your order! After completing your purchase, you will receive an email with your login credentials to access the exclusive members area. You can begin learning how to make tutu costumes right away while you are waiting for your DVD to arrive in the mail!
CLOSER LOOK AT WHAT'S INCLUDED IN THIS COURSE:
DVD / Instant Video Access

eBook Chapters

Getting Started
Chapter 1 – Getting Started
Video 1 – Angel Tutu
Ch. 2 – Tools & Supplies

Video 2 – Lady Bug Tutu

Ch. 3 – List of Suppliers

Video 3 – Bumble Bee Tutu

Ch. 4 – Crochet Bands

Video 4 – Peacock Tutu
Ch. 5 – Elastic Bands
Video 5 – Dalmatian Tutu
Ch. 6 – Cutting Tulle
Video 6 – Witch Tutu
Ch. 7 – Tying Tulle
Video 7 – Santa Tutu
Ch. 8 – Size Charts
Video 8 – Tinker Bell Inspired Tutu
Ch. 9 – Caring For Your Tutu
Video 9 – Snow White Inspired Tutu
Ch. 10 – Tutu Costumes (12 styles)
Video 10 – Cinderella Inspired Tutu
Video 11 – Belle Inspired Tutu
Video 12 – Rapunzel Inspired Tutu
Shipping
Orders are shipped withing 1 business day. U.S. orders normally take 3-7 business days for delivery and International orders normally take 7-14 days.